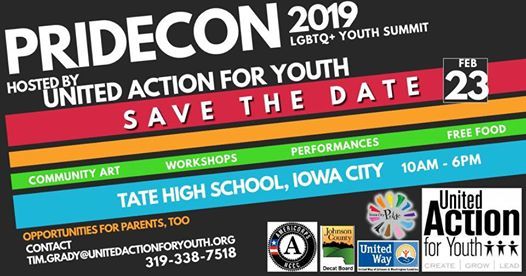 I'm a little winded mentally this morning because yesterday I opened a copy of the local corporate gay male advertising rag GoGuide and was hit between the eyes by TWO full page ads for PrideCon, a conference put on by a local youth advocacy/activity group known as United Action for Youth. It is billed as a LGBTQ+ youth summit, with events planned for parents of this demographic.
But this is clearly just ad copy intended to advertise the services offered by the Pediatric LGBT Gender Identity Clinic at UIHC. Only two "workshops" are listed, one is ASK THE DOCTOR, which features pediatrician Dr. Michael Colburn from the U of I Adolescent Clinic, and the other has two sessions, session one about the IDENTITY of the child, session two about the AGE of the child:
Time & Location

Feb 23, 10:00 AM – 6:00 PM

Tate High School, 1528 Mall Dr, Iowa City, IA 52240, USA
About The Event
UAY PrideCon 2019 will take place on Saturday, February 23rd from 10am-6pm at Elizabeth Tate Alt. High School in Iowa City. There will be break out sessions, performances, community art and lots of delicious food, of course! This day-long event will be FREE and open to all LGBTQIA+ junior high and high school students in the area. Parents of LGBTQIA+ youth are invited to a free lunch, followed by break out sessions, all taking place at UAY's Eastdale location. Registration is required for both parents and young people. Click here to register: https://www.unitedactionforyouth.org/pridecon. All Pride Con related questions can be directed to tim.grady@unitedactionforyouth.org.
I tend to get bowled over by these blatant displays of masculinist horror. They are literally stalking a group of confused and vulnerable children so that they can sell their parents poisonous chemicals that have not been evaluated for the long term effects on children's developing bodies. Because, ethically, how could anyone deliberately chemically sterilize a child in order to create a data base for their corporate employers?
This holocaust of young gay and lesbians is taking place in full public view and with the endorsement of the very agencies and human rights organizations (lgbtqiblahblahblah) that should be encouraging their gender nonconformity and protecting them from corporate exploitation.
Here's the poop on Doc Colburn:
"My vision is that all adolescents receive high quality, accessible, evidence-based physical and mental health care from pediatricians. My mission is to provide high quality, accessible, evidence-based care of the adolescent while educating the next generation of pediatricians in adolescent primary care utilizing proven training strategies."— Michael D. Colburn

Specialties

Diseases and Conditions

Abnormal uterine bleeding

ADHD (attention deficit hyperactivity disorder)

STDs (sexually transmitted diseases)
So, apparently his actual medical training is in gynecology and the rest of his oeuvre is the biopsychiatric array that involves prescribing speed and other brain-damaging behavior- control chemicals to kids who are struggling to survive and make sense of life on a dying planet. (They know the jig is up and the climate is cooked, even tho adults keep lying to them about this.)
This entire event is a sales pitch and it makes me sick because I am forbidden to say that out loud. I can't say anything against this practice of transgendering, which involves overwhelming a child's developing body with dangerous chemicals that have not been tested for long term safety in kids. Because who would do such an unethical thing? Transing a child with puberty blockers and cross sex hormones sterilizes the child. Imagine sterilizing a child for not conforming to a sexist stereotype. Who would do such an unethical thing?  And the saddest thing of all is that the child's capacity for experiencing sexual pleasure in their genitals is destroyed. Because doctors can't really change anyone's sex, all that is happening is the removal and mutilation of healthy body parts.
Pretty ghoulish if ya stop to think about it. Which is why most people are afraid to look closely at what Corporate Medical is trying to shove down our throats. And it just chills me to the bone that gays and lesbians have allowed the fight for acceptance for loving the same sex to be hijacked by corporate interests with products and services to sell.  It's a great business model – it creates an addiction to synthetic cross sex hormones and permanent dependence on corporate medical products and services.
One of the ways that this medical hoax is being sold to parents is that parents are told that their child will commit suicide if they don't undertake this hazardous medical intervention. And this is an outright lie, because in fact, suicidality INCREASES after transition according studies done in Sweden.  And then there is the fact that the overwhelming majority of children who say they aren't the sex they are grow up to become gay or lesbian.
If I had the guts, if I could take the negativity, I would show up at this event and pass out flyers that would give alternatives to medical intervention.   I would risk challenging the cognition dissonance that tunes out atrocities.  I would remind people that it isn't actually possible for anyone to be born into the wrong body.  But it hurts to much to be considered a hater when this is the opposite of the truth. Such is the nature of fascism, I suppose.